One solar energy facility delayed; building to start on manure digester in fall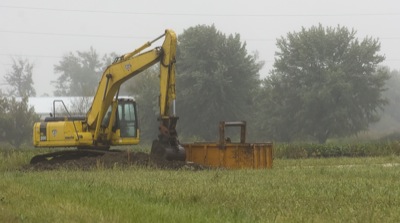 Both developers of renewable energy plants in Celina say plans are moving forward, even though one target operating date has been pushed back.
A storm sewer and gravel access drive are being installed at the 60-acre Celina Renewable Energy Center off Meyer Road. The site will house two solar energy plants and a manure/algae digester.
"The process is moving slower than what we would like, but we are still moving forward," Mike Dickman, vice president of Solar Vision LLC of Westerville, said this morning. "We are refining our engineering. We have not yet received a (building) permit."
Solar Vision personnel in late June broke ground on the solar energy project, expected to produce 5-megawatts of electricity from two plants. Dickman initially projected both plants would be completed and producing power by the end of the year.
Now, Dickman says the 3-megawatt plant may be complete and producing power by the end of the year, while the 2-megawatt plant may be three to six months behind.
Dickman said financing for plant one is secure but there are still steps to go through. Solar Vision is in the process of obtaining financing for plant two.
The first solar plant will contain 12,000 panels and the second will have about 8,000. The panels will be attached to racks – 22 panels on each of 910 racks.
Sunlight will be transformed to DC power within each panel before being changed to AC power by an inverter located on the center aisles of the field. After going through a series of three transformers, a substation will boost the power to 69,000 volts before sending it to the city's power lines.
Mark Pursley, president of Optional Energy Partners of Michigan, said his company is anticipating construction of a manure/algae digester to begin in late fall.
"We hope to be commissioned (start producing electricity) in late May," he said this morning.
The methane digester, to be built on five acres of the site, will use poultry, swine and dairy manure, algae and feedstocks to produce 1.5 megawatts of electricity for the city. It also plans to produce organic fertilizer.
So far, 50 percent of the company's manure needs are met by local farmer commitment, Pursley said. He hopes to secure the other 50 percent in the next two to three weeks.
Pursley stressed the importance of facilitating positive, mutually-benefiting relationships with the local agricultural community. Optional Energy Partners will ultimately save farmers money by taking care of their manure problems, he said.
Pursley said company officials believe newly-imposed manure regulations in the Grand Lake Watershed will become the regulatory norm of many other areas in the future. That's why it's essential to get a digester up and running – proving the technology can manage manure for farmers and aid restoration efforts of waterways, he said. Once a working model is created, it can be duplicated elsewhere, Pursley added.
"It has to be sustainable," he said.
For the local agriculture business to grow, it must be nurtured with 21st century manure management practices, Pursley said.
By William Kincaid, The Daily Standard
Comments
comments