She's a tree eater
State's new horizontal grinder goes to work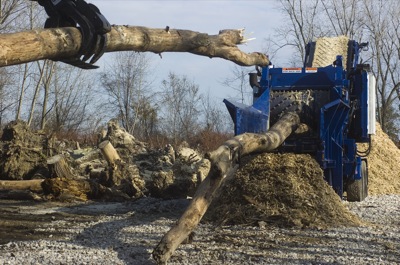 GRAND LAKE – She has a 765-horsepower engine and can grind up a 30-foot log in less than a minute.
The state's new 4700 B horizontal feed grinder went to work Tuesday along West Bank Road. About 30 state park employees from Ohio, including three from Grand Lake St. Marys State Park, attended the training event.
"In a word, it's destruction," Grand Lake dredge program supervisor Tom Grabow said grinning. "She's a beast, that's for sure."
The 67,000-pound, 65-foot-long unit will be used to grind stumps left from downed trees at dredge material relocation areas, logs and stumps pulled from state lakes, dead trees cut on state land and trees toppled by storms.
The $400,000 machine was purchased by the state and will be based out of the region that includes Grand Lake, Lake Loramie and Indian Lake, but will be available to all state parks.
It uses 30 to 32 gallons of diesel gasoline an hour and can grind logs almost three feet in diameter with an unlimited length. Twenty four hardened-steel knives, 6-by-3-inches each, tear apart logs fed into the unit on a 16-foot conveyor.
If the beast ran continuously, it would produce 20 tons (400 yards) of ground wood per hour, said Jeff Beck of Murphy Tractor & Equipment Co., Columbus, who sold the grinder to the state.
"It's impressive to see a log demolished that quick," said Rob Heckler, Celina, a state construction crew member. "It didn't take long to eat up a 30-foot log."
In the spring, Grand Lake St. Marys State Park will have mulch available to the public. It will be made from ground-up stumps at the dredge relocation area along West Bank Road.
"We'll designate a spot to put it in and residents can come load it themselves," Grabow said. "For this first time, we need to give it to the community for something they can use."
The mulch also will be used in state landscaping projects, he said.
Comments
comments