Lake Improvement Association President Tim Lovett and LIA Vice President Mark Piening were recognized by Ohio Department of Natural Resources Director Jim Zehringer and State Representative Keith Faber for their years of volunteer work toward the restoration of Grand Lake St. Marys at the December 2017 LIA Member Meeting.
During their eight-year tenure, Lovett and Piening worked tirelessly with local, state and federal officials to ensure the Grand Lake St. Marys community's concerns were heard. Their contributions were integral to securing funds and studies for lake restoration efforts, including the development of a science-backed plan to restoring water quality in Grand Lake St. Marys. In addition, the pair oversaw multiple lake improvement efforts, grew the LIA membership, and fostered cooperation between the lake community, area producers and state officials.
Director Zehringer read a statement from Ohio Governor John Kasich thanking Lovett for "acting as a representative between local citizens impacted by Grand Lake St. Marys and elected officials in fostering effective, constructive dialogue between ODNR, lawmakers and the community."
"That fits Tim Lovett perfectly," Zehringer said.
Faber added, "It is my honor to recognize you for your service that went not just to the LIA, but to the entire community and in many ways to the State of Ohio."
To Piening, Faber said, "The community is so much better here than anywhere else, in large part because of people like you who have reached out and invested your time, your talents, and frankly your treasure in the things you believe in."
Lovett and Piening vacated their respective roles at the conclusion of the meeting; at which time they were succeeded by former LIA Trustees Nick Rentz (president) and Brian Morris (vice president). Their trustee positions were filled by Brian Monroe and Stu Wagner. Sergeant At Arms Dave Eyink also ended his term; his seat was filled by Keith Westrick.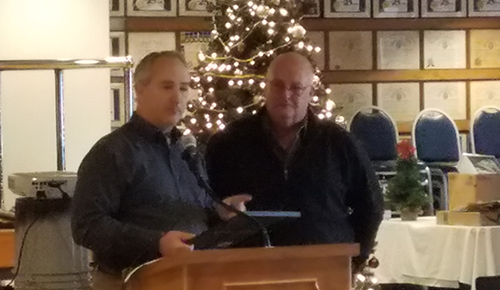 Comments
comments