Grand Lake St. Marys Fuels The Economy
You know Grand Lake St. Marys as a recreational hub and wildlife habitat, but have you ever considered the economic impact of the lake? All stakeholders – businesses and citizens alike – benefit from a clean and healthy Grand Lake St. Marys. As you'll see in this installment, Grand Lake St. Marys is more than a valuable natural resource; it is the one single economic resource that is critical to the well-being of all who live and work in the GLSM region.
Grand Lake St. Marys creates and maintains jobs, attracts employers, injects tourism and tax revenue into the local economy, and presents future opportunities above and beyond what has ever been achieved before. Without Grand Lake St. Marys, the region would be like so many others nationwide without a major attraction; but with Grand Lake St. Marys, all stand to benefit from the influx of funds directly and indirectly derived from the lake.
Grand Lake St. Marys Economic Facts – pre-algal bloom
Grand Lake St. Marys accounts for more than $150 million in annual attributed revenue. More than 750,000 people visit Grand Lake St. Marys every year, and more than 11,000 citizens reside in the watershed
The actual economic impact of GLSM is even greater – the $150 million figure does not include revenue generated by those living in the area, property taxes, and other non-tourism-related revenues. Some estimates have the annual economic impact of Grand Lake St. Marys to be between $193 million and over $200 million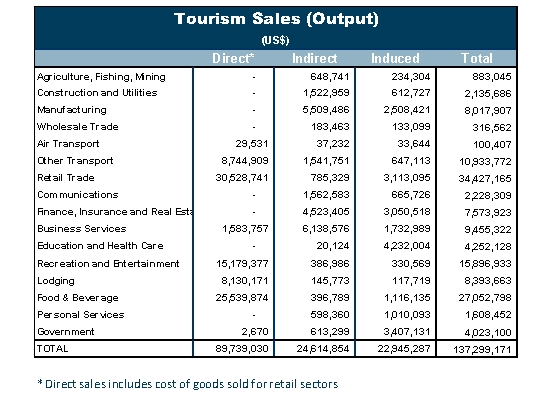 In addition to travel and tourism industries, manufacturers and business services sectors are important tourism beneficiaries as suppliers
Tourism supports 1 in every 17 private sector jobs in Auglaize and Mercer Counties
Tourism generates nearly $40 million in personal income annually; and hospitality alone accounts for nearly 2,500 jobs
Tourism generates more than $18 million in taxes and fees annually; which comes to more than $9 million in state and local taxes (approx. $5 million state, $4 million local)
What Happens When Things Go Wrong?
The crisis in Grand Lake St. Marys doesn't just keep boaters, fishers, swimmers, and other enthusiasts out of the water; it threatens the local economy via the following mechanisms.
 $60 to $80 million in annual lost revenue. When the lake suffers, we all suffer. Tourists stop coming here, and they stop spending money here. It is estimated that local businesses suffered, on average, 35% to 40% losses in revenue over the past two summers due to the lake's poor conditions and the resulting slow tourism. At $150 million in annual revenue, a 40% loss adds up to $60 million in lost revenue – annually. At $193 million, we lose $77 million. At $200 million, that adds up to $80 million in local losses.
---
 Elimination of jobs. When businesses lose money, they cannot afford to hire employees. When restaurants can't fill tables, campgrounds can't fill sites, bait shops can't sell bait and tackle, gas stations and convenience stores fall short, marinas can't sell boats, and myriad other businesses suffer, they cut back – and employees are often the first to go. Eventually, businesses shut down permanently.
---
 Lost tax revenues. People move away, leaving empty homes and the loss of property tax. Retail and service sales drop, severely reducing the amount of local tax revenue collected. Funds used to deploy programs and maintain parks, streets, and utilities are depleted, and the entire Grand Lake St. Marys community suffers.
---
 Loss of economic development. Grand Lake St. Marys is a major selling point when it comes to attracting large employers to the area. When the lake is not healthy or usable – and indeed, when it is getting bad press – it becomes very difficult to sell the area to large employers.
---
 Property value decline. It is estimated that regional property values have decreased by 14% in the last two years, with 6% of that decline directly attributed to the conditions of Grand Lake St. Marys. Cumulatively, that comes to more than $25 million in lost property values area-wide.
---
 Reduced quality of life for everyone. Less revenue, fewer jobs, the elimination of recreational resources, governments with fewer funds to disperse for community improvement, and, of course, a large body of unhealthy water means a reduced quality of life for everyone who works and lives in the Grand Lake St. Marys region.
---
How Can We Restore The Economy? How Can I Help?
A clean, healthy Grand Lake St. Marys has the potential to spark and maintain an economic boom in Auglaize and Mercer Counties. The $150 to $200 million in annual sales is just the tip of the iceberg.
It's speculative, certainly, but imagine potential revenues if Grand Lake St. Marys is restored and a luxury resort came to the area? How about an amusement park such as Gordon State Park, which graced the shores of Villa Nova so many years ago?
Think of the possibilities of Ohio's largest inland lake. Think of the revenue made by Put-In-Bay, and consider that Grand Lake St. Marys has a distinct advantage when it comes to tourism: we have more land area, and can therefore accommodate more tourists and more spending. The possibilities to increase quality of life for all stakeholders are endless, but it all starts with restoring Grand Lake St. Marys.
The Grand Lake St. Marys Restoration Commission, a collaboration between many local agencies, has dedicated time, money, and resources to determine exactly what has caused the lake's degradation and what needs to be done to restore Grand Lake St. Marys. As such, the GLSMRC has developed an Action Plan that clearly describes the steps it will take in the upcoming months.
DOWNLOAD THE GLSMRC ACTION PLAN FOR GRAND LAKE ST. MARYS RIGHT NOW
Read it, study it, understand it, and then find out how you can help restore Grand Lake St. Marys.
The future of Grand Lake St. Marys depends on you.
Yesterday, Grand Lake St. Marys was indeed the grandest of them all. Today it is in trouble. What tomorrow brings is unknown.
We can do nothing and allow the lake to meet its end. Or, we can work together to return Grand Lake St. Marys to its former glory and power as a famous recreation hub and thriving economic boon. You can start by downloading your Personal Action Plan.
Special thanks to Donna Grube, Executive Director, Auglaize/Mercer County Convention and Visitor's Bureau; and Jared Ebbing, Economic Development Director, Mercer County Community Development Department, for their valuable insights, time, and materials in helping produce this installment on the economy of Grand Lake St. Marys.