Erosion and sedimentation strip Grand Lake St. Marys of her shoreline and leave a thick layer of muck on the bottom of the lake.
Grand Lake St. Marys has LOST OVER 30% OF ITS VOLUME due to erosion and sedimentation
It is estimated that BETWEEN 150,000 and 200,000 TONS OF SILT enter the lake annually
The problems are not independent of pollution, but rather examples of how one issue can snowball and create others.  In a nutshell, it goes like this:
Pollution runs off into the lake –>  Pollution/phosphorous and resulting blue/green algae kill shoreline plants –> Without a natural root system to hold soil together, the shoreline erodes and fills the lake with sediment
Nutrient runoff isn't the only thing that has contributed to this issue.  Lakeside developments that do not preserve natural flora or otherwise plan to combat erosion are also responsible.
In addition, the many tributaries to Grand Lake St. Marys face similar issues, and silt from these streams ultimately ends up in the lake.
Grand Lake St. Marys Erosion Examples
Windy Point
This sign was installed on the west side of Windy Point in June 2003 with 10 feet of shoreline in front of it.  By the time these pictures were taken in December 2003 only 2 1/2 feet of shoreline remained.  In this case, 7 1/2 feet of Grand Lake St. Marys shoreline eroded away in just six months.
Montezuma Bay
This "rock" jutting out of Montezuma Bay used to be a fairly nice-sized island, eroded to the point that a couple of seagulls might have to fight for space.
Big Chickasaw Fishing Area
The shoreline separating the lake from a channel – and wetland area – is washing away, taking a vital habitat area with it.
Prairie Creek Island
In the photos below, all taken circa 1965, you'll notice the abundance of vegetation.  The last photo is a present-day photo of Prairie Creek Island that demonstrates how widespread the erosion issue is.
1960's photo – plenty of vegetation to curb erosion!
Another old photo – notice the offshore vegetation?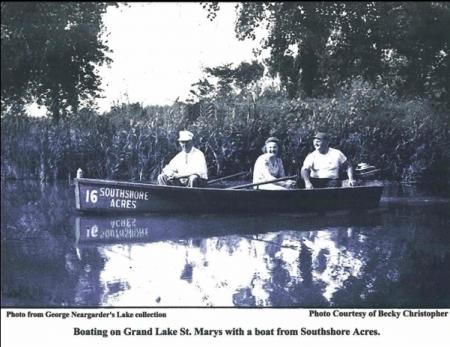 Yet another old photo – see how tall the vegetation once grew?
Prairie Cree Island – today.  No vegetation, lots of erosion.
Erosion Solutions and Actions
Reintroducing native flora to lake and tributaries
Installing shoreline buffers on lake and tributaries
Responsible development
Removing silt and sediment from lake
Cleaning lake and solving pollution issue
Comments
comments